On-Campus Dining
FOR DAILY HOURS AND MENUS FOLLOW US ON SOCIAL MEDIA:
FACEBOOK - TWITTER - INSTAGRAM : @HospitalityUofG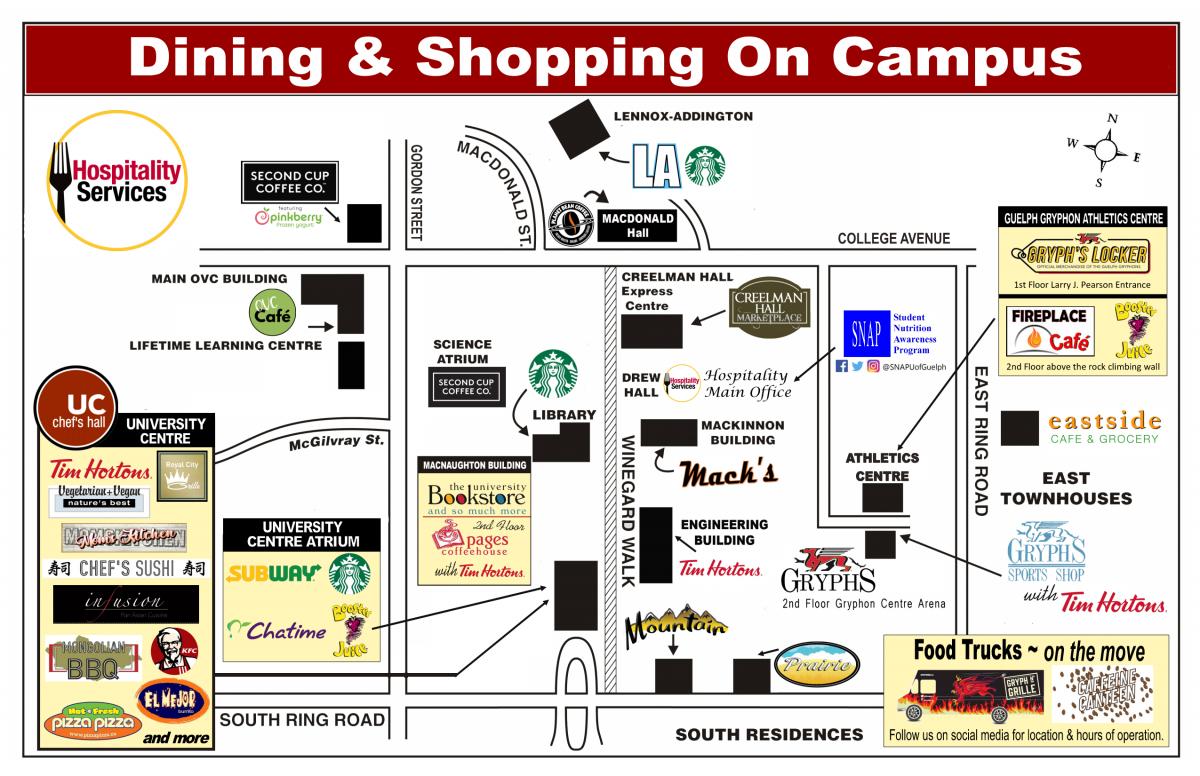 On Campus Dining and Retail Locations (Text Version)
North Campus

LA
Located on the main floor of Lennox/Addington Residence, these food locations are really convenient!
LA Serves:
A Wide Variety of Beverages
Hot Grill Selections
Pizza Pizza Counter
Salad Bar
A "Made to Order" Omelette and Pasta Bar
Your Favourite Snack Foods

LA Starbucks
The LA Starbucks is full service in a relaxing environment, with a large fireplace and bistro style seating
Amazing coffees from around the world, Handcrafted beverages to discover and enjoy. Turn your morning coffee run into your morning breakfast. While we're pouring your perfectly brewed coffee, enjoy any one of our delicious breakfast sandwiches, wraps or Starbucks Whole Grain Oatmeal. Don't forget to treat yourself to delicious pastry.
Contact: Adrian Hollingbury ext: 58171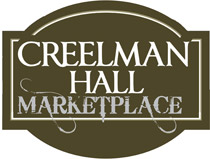 Located on the North end of campus in creelman Hall, creelman Hall marketplace is a bright, bustling, open-market concept with a wide variety of specialized shops and stations including:
Extensive all-day Salad Bar
Nature's Best Vegetarian
Deli and Panini
Exhibition Cooking Station
Mom's Home Cooking Counter
Made to order Pizza and Pasta
Large selection of desserts and pastries
Fair Trade Coffee and Tea
100 Mile Grille, featuring local foods
Mongolian BBQ
Whether its breakfast, lunch or dinner- we'll turn your meal into an experience!
Contact: Angela Parker ext.53040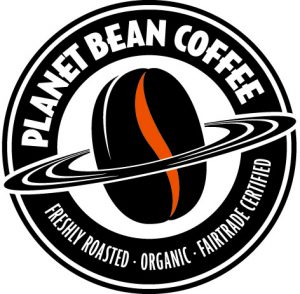 Grab & Go Kiosks
For added customer convenience, Hospitality operates several snack bar/coffee shops in main classroom buildings across campus. These locations have extensive hours and accept student Meal Plans anytime.
Our "grab and go" kiosks offer a variety of items including:
Gourmet Coffee and Teas
Fair trade coffee
Assorted Cold Beverages
Sandwiches, soups and salads
Fresh Pastries and Your Favourite Snack Items
South Campus

Mountain Dining Hall
Located right inside the South Residence, you can come on in, in your favourite slippers! Between these two facilities you can enjoy breakfast, lunch and dinner! Featuring extensive salad bar, omelette bar, pasta bar, lots of vegetarian choices, vegan options, deli-Licious Creations, a hot grill as well as the popular Pizza Pizza franchise!

Windows Cafe
Windows Café is a cozy bistro providing students with a great spot to dine, chat with friends or just stretch out and relax. Televisions are located throughout the café for your added enjoyment.
Windows offers:
Gourmet Waffles & Crêpes
Pastries & Decadent Desserts
Fair Trade Coffee
Smoothies
Espresso
Teas
Hot Chocolate
Contact: Jackie Pearson ext: 56227/52809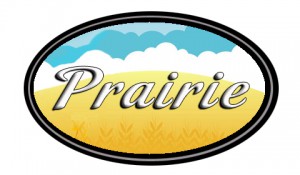 Located in South Residence, no need to venture outside on a cold and wintry day when you live in South! Prairie Dining Hall is conveniently attached to your rez!
Prairie Dining Hall Offers:
A wide variety of all your favourite hot meals
Excellent vegetarian and vegan entrées
Extensive salad bar
Big screen television – entertainment while you eat!
Attractive dining room with solarium
Fair Trade Coffee
Contact: Jackie Pearson ext: 56227/52809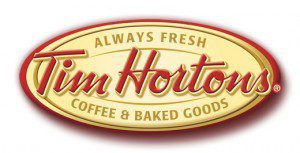 Closed until further notice
Located on the ground floor of the Engineering Building (Thornborough), this Tim Hortons kiosk offers a wide selection of Always Fresh Tim Hortons beverages and pastries! In a hurry? Grab a salad, sandwich or wrap from the Goodness To Go fridge.
Accepts student Meal Plans, Debit/Visa/MC. Sorry, we are not able to process Tim Cards.
Contact: Bruce Collett ext: 52621
Central Campus
East Campus
West Campus
Our cafeteria offers a variety of items including:
Heat to Order Breakfast sandwiches and Breakfast plates
Hot lunch menu (11am-2pm) using our 'pay by weight' format

Compostable containers or Green Re-usable program
Options may include… Pasta Special, Beef, Pork, Chicken or other proteins
Vegetarian Entrée, Potato or Rice sides and vegetables

Hot Soup
Freshly made Grab & Go selection of Fruits, Salads, Deli Sandwiches & Wraps
Hot and cold beverages including Cappuccino's, Lattés & Espresso
Cookies, Muffins, Danish, Scones, Brownies and other bakery items including Gluten & Nut Free options
Confectionery items
Contact: Bruce Collett ext.52621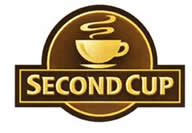 Second Cup has become a second home to hundreds of U of G guests every day. And because we know our guests appreciate a great cup of coffee, we've created an open laid back environment with lots of comfortable seating that highlights this careful coffee selection process, pays homage to the global coffee community, and shares with them our wealth of coffee knowledge.
Paired with baristas that celebrate craftsmanship and take pride in all that they do, there truly is a little love in every cup.
Our "grab and go" kiosks offer a variety of items including:
Selection of hot and cold beverage (lattes, espresso's frozen hot chocolate and smoothies
Variety of specialty baked goods
Grab and go sandwiches
Contact: Bruce Collett ext: 52621
Roaming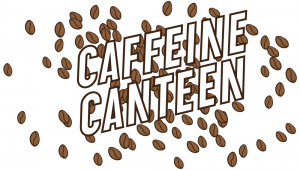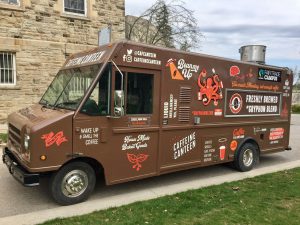 Hospitality Services Caffeine Canteen Food Truck will serve meals for breakfast, lunch, special events, and sporting events at various campus locations.
Follow us on Twitter, Facebook & Instagram for our daily hours and location. Share your photos on social media with us using #GryphonBlend.
To book the Caffeine Canteen for your On-Campus event contact:
Contact: Christine Zulauf
Phone: (519)-824-4120 ext: 54652
Email: cgraha01@uoguelph.ca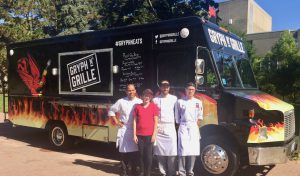 Hospitality Services Gryph N' Grille Food Truck will serve meals for lunch, dinner, special events, and sporting events at various campus locations.
Follow Gryph N' Grille on Twitter or Facebook for our daily hours and location. Share your photos on social media with us using #GryphNEats.
To book the GryphN'Grille for your On-Campus event contact:
Contact: Christine Zulauf
Phone: (519)-824-4120 Ext: 54652
Email: cgraha01@uoguelph.ca