Voted #1 Food Service University – 10 Years in a Row
Hospitality Services is the recognized leader for quality and innovation in Canadian University food services.
Hospitality Services is a self-supporting, break-even Department of the University of Guelph that manages numerous dining facilities and retail shops on campus.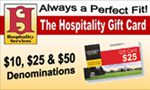 Hospitality gift cards are AVAILABLE in $10, $25, and $50 denominations in most Hospitality Services locations!
They are accepted in in ALL Hospitality Services locations plus ALL off-campus locations!